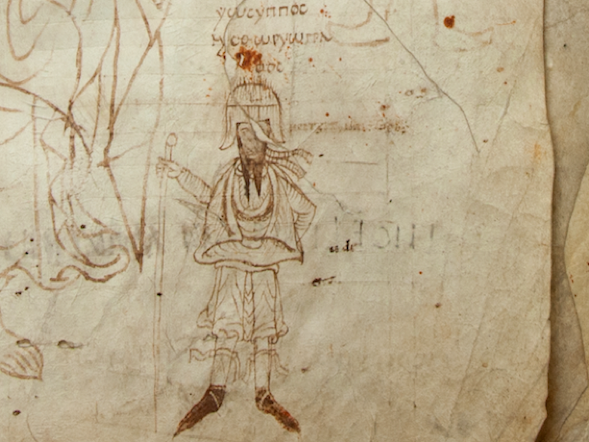 Image: Bern, Burgerbibliothek, cod. 50 (fol. 2r)
A figure labelled in Greek script yôsyppos Hysthôriôgraphos, in a 9th-century manuscript containing the Latin translations of Josephus' Antiquities and War, which belonged to the Benedictine Abbey of Saint-Mesmin in Micy, France.
Reproduced with the permission of the Burgerbibliothek Bern.
Further information on the figure in Deutsch 1981 and Taylor 2014.
Seeking Sefer Yosippon: A Workshop at the University of Bern
The Lege Josephum! SNF Project, together with the Institute für Judaistik, is delighted to be hosting a workshop on the Hebrew text of Sefer Yosippon and its Latin sources (11-12th May, 2022, Mittelstrasse 43, Room 220)
From Josephus to Yosippon and Beyond
Carson Bay (of the Lege Josephum project) co-organized an excellent conference in collaboration with Jan Willem van Henten (University of Amsterdam) and Michael Avioz (Bar Ilan University) on the development of the Josephan tradition from the Latin Josephus into the Hebrew Yosippon and its reception.
The conference, on Aug. 23-26 2021, featured 17 talks from international experts, and 2 team-taught masterclasses – one by our Lege Josephum Team!
Further details can be found on the conference website: https://www.fromjosephustojosippon.com/
Workshop announced: 21 & 22 January 2021
Glossing Josephus in the Latin Middle Ages: Comparative Perspectives
In January the Josephus Latinus Project held its first workshop (slightly delayed by the surprises of 2020), featuring six talks on how medieval scholars read and annotated a range of authoritative texts, with particular focus on the role of the digital humanities in conducting and presenting research on glossing practices.
Workshop Schedule (30.12.20).pdf

(PDF, 187KB)
Autumn Lecture Series at the Berner Mittelalter Zentrum
The Lege Josephum Team is organizing a lecture series this autumn on how medieval Jewish and Christian communities perceived themselves and each other, with the title Fremdbilder – Selbstbilder: Juden und Christen im Mittelalter. It will feature 12 lectures from international scholars across a range of disciplines, in both English and German.
There follows the (German) introduction to the series:
Die Geschichte von Christen und Juden im Mittelalter ist geprägt von Auseinandersetzungen und Begegnungen, von Gemeinsamem und Trennendem. In vielerlei Hinsicht ist es eine Geschichte, die bis heute ihre Spuren hinterlässt. Die Ringvorlesung eröffnet ein breites Spektrum von Themen zu den jeweiligen Fremd- und Selbstbildern auf jüdischer und christlicher Seite, die wir in der Bildenden Kunst, der Literatur, in theologischem Schrifttum und in histori(ographi)schen Dokumenten greifen können. Anstoss zu dieser Ringvorlesung gab das interdisziplinäre Berner SNF-Projekt (www.legejosephum.unibe.ch) zur mittelalterlichen Rezeption des jüdischen Historiographen Flavius Josephus (1. Jh. n. Chr.), die in christlichen und jüdischen Kreisen ganz unterschiedlich verlief und daher als ein Paradebeispiel dafür dienen kann, wie ein und derselbe Text von verschiedenen Interessengruppen unterschiedlich wahrgenommen und verarbeitet werden kann.
Carson Bay receives De Gruyter Prize for Textual Culture and Reception of the Bible
Guest Lecture in Paris on 15.01.2020
Prof. René Bloch (Bern): "Le buste de Flavius Josèphe à Copenhague : l'histoire d'une erreur"